XU10J4RS Fact sheet
I've compiled as much information about the XU10J4RS engine as found in the Peugeot GTi6 and Citreon Xsara VTS. This post was first made on 01/02/12, I will update this page as I find more data.
The XU10J4RS engine is the latest in the XU engine range by PSA Peugeot Citreon. This four cylinder engine replaced the XU10J4 ACAV which was found in the Peugeot 306 S16.
Facts & Figures
| | |
| --- | --- |
| Capacity: | 1998cc |
| Max power: | 167bhp @ 6500rpm |
| Max torque: | 145 lb/ft @ 5500rpm |
| Specific output: | 84bhp per litre |
| Layout: | inline 4 cylinder |
| Valve gear: | 4 valves per cylinder, DOHC. |
| Bore: | 86mm |
| Stroke: | 86mm |
| Compression ratio: | 10.8:1 |
| Weight: | ~210kg (with gearbox) |
Additional engine design information
The XU10J4RS has a lighter rotating assembly and timing gear, a reworked cylinder head with specially designed cams and a new inlet and an extremely impressive four branch tubular exhaust manifold.
By way of a Helmholtz resonator in the inlet manifold the acoustic harmony between inlet and exhaust has been optimised to produce a smooth torque curve. Some owners have found fitting aftermarket exhaust systems can disrupt this balance and so reduce midrange torque.
XU10J4RS block information
The thin wall cast iron block incorporates the 4 cylinders which have an oil spray nozzle at the base of each for crucial piston base cooling. The crankshaft is made from cast iron and has been fitted with a vibration damper and supports redesigned conrods which are lighter.
The timing gear is driven by a toothed belt system of hubs and idler wheels which keeps the belt tension fully independent of camshaft timing.
XU10J4RS cylinder head information
Arguably it is the cylinder head which really sets the XU10J4RS apart from previous engines. The cylinder head is made from light alloy (AS7) and has been extensively redesigned for increased power. The shape of the head pipes give an improved gas mixture flow and the wedge shaped combustion chamber features a 'flush' - a special protuberance to improve the permeability of the cylinder head.
Peugeot have also made improvements to the camshafts which are of a brand new design to match the valve diagrams which are specific to this type of engine. Each cam is individually lubricated and as in the other multi-valve engines in the PSA range, the cams act directly on the hydraulic zero lash tappets which have been put on a diet and reduced from 62.5g to 50g which limits the forces at work caused by inertia thus improving operation at high rpms. The valves are assisted by two return springs and are very similar to the those found in the earlier XU10J4R except they are 10g lighter due to the reduction of the valve stem diameter by 1mm.
Inlet and exhaust information
At the front of the manifold is a progressively acting throttle body (64mm diameter). Air regulation when the engine is idling is controlled by a separate stepper motor (also known as ICV), this air is fed from the airbox through a small rubber tube which branches off the main air feed. This is well known to perish and snap off which may cause idling issues, also be aware that unfiltered air is being drawn into the engine if this happens which may cause damage over (along) time.
The air inlet itself consists of an aluminium manifold plenum with a composite Helmholtz resonator joined to the underside. As mentioned earlier these two chambers work together to establish acoustic harmony within the chamber resulting in smooth torque curve.
Four aluminium pipes run from the manifold to the cylinder head each one consisting of a 283mm long tube coupled to a 37mm trumpet build into the plenum. Above the throttle body the inlet manifold is also fitted with a pressure sensor (MAP sensor) which keeps the ECU system constantly fed with engine load information.
The sequential ignition and injection are controlled by the Magneti Marelli AP10 control unit fitted with Flash EPROM. Twin jet injectors spray in vapourised fuel which is regulated by a fuel pressure regulator. Moving on, the ignition is triggered with one coil per cylinder. The engine is fitted with a knock sensor to protect the engine against abnormal combustion.
Please read: Although I have tried to verify this page as much as possible I take no responsibility for the accuracy of the above information and am not liable for any damages caused by inaccuracies which may occur.
Sensors
Complete list of sensors and their function as found on the GTi-6 (XU10J4RS) engine found in Peugeot 306 and Citroen Xsara VTS models.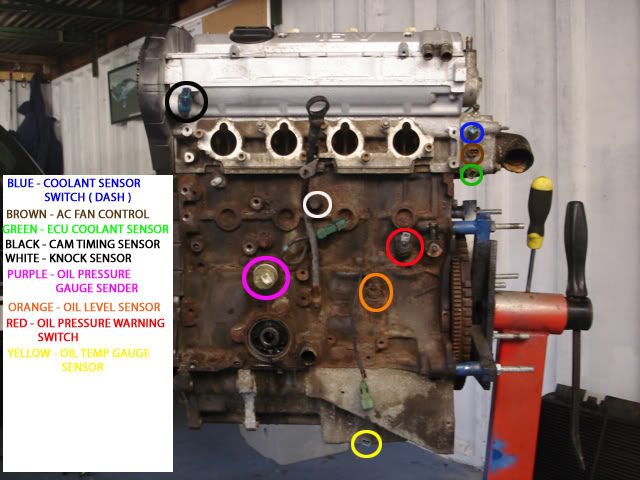 Blue - Coolant Temperature Gauge Sender
Brown - Cooling Fan Switch (found on models with aircon - not needed for 205 GTi-6 conversions)
Green - ECU Coolant Temperature Sensor
Black - Cam Timing/Phase sensor
White - Knock Sensor
Purple - Oil pressure Gauge Sender (generally only found on Phase 1 306 GTi-6 engines)
Orange - Oil Level Sensor
Red - Oil pressure Warning Switch (sometimes located in place of the Oil Pressure Gauge Sender circled in Purple above)
Yellow - Oil temperature Gauge Sender
Also, the Crank Position Sensor (also known as Engine Speed Sensor) isn't shown in the above diagram, but is located in the top of the gearbox directly above the flywheel.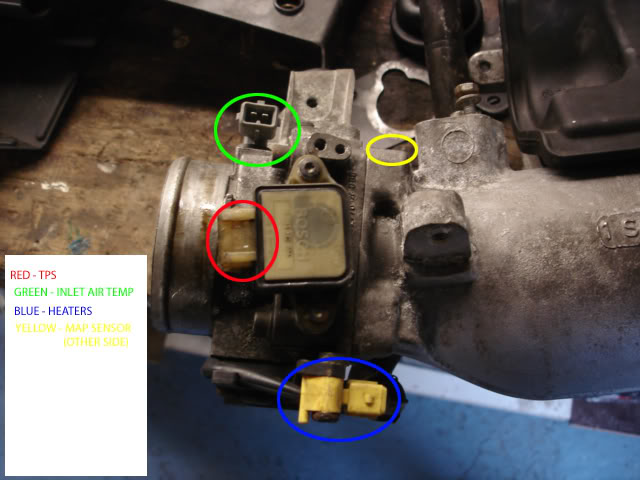 Red - Throttle position sensor (TPS) (TPS is a potentiometer rather than a switch as found on GTi 8v and 1.9 Mi16 engines)
Green - Inlet Air Temperature (IAT)
Blue - Throttle Body Heater
Yellow - Manifold Absolute Pressure (MAP)
electric schema